Southern Ocean Fluxes (SOFLUX)
Capability Working Group
Enhancing Air-Sea Flux Observations in the Southern Ocean

The Southern Ocean has been identified as the prime region for net global uptake of heat and carbon dioxide.  While air-sea fluxes determine this uptake, existing air-sea flux products vary significantly, and a number of studies have suggested that infrequent storm-related events may play a significant role in governing net air-sea exchanges.
The core aim of the Southern Ocean Fluxes (SOFLUX) Capability Working Group is to reduce uncertainties in our understanding of air-sea and air-sea-ice exchanges. The working group facilitates the implementation of an observing system of essential ocean variables (EOVs) to support investigations on dynamics and change in Southern Ocean air-sea fluxes, the development of priority measurements, standardized methodologies for collecting and archiving data, the optimal design of field programs and remote sensing systems, strategies for implementing field observations, and support for development of assimilation and gridded flux products. 
The SOOS SOFLUX Capability Working Group is responsive to emerging community priorities and can facilitate regional working groups and networking with other programs, including the global Observing Air-Sea Interactions Strategy (OASIS) SCOR working group, as well as SOLAS (Surface Ocean--Lower Atmosphere Study), BEPSII (Biogeochemical Exchanges at the sea ice interfaces), and ASPECT (Antarctic Sea Ice Processes & Climate).
Priorities include heat and momentum fluxes, gas/biogeochemical fluxes, and fluxes in the presence of sea ice.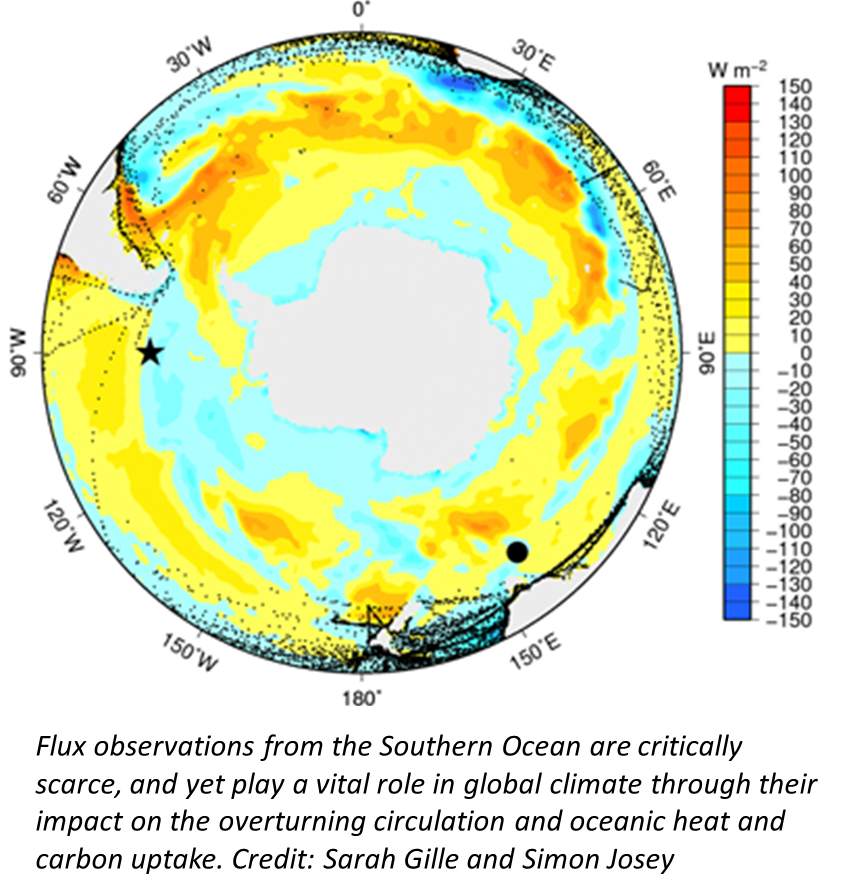 The full terms of references for this working group can be found here.
Support air-sea flux research in the Southern Ocean by facilitating international communication through webinars, regular newsletters, community white papers or review papers, conference special sessions, town halls, targeted workshops, and dissemination of new research.

Facilitate Southern Ocean air-sea flux observing system design studies, by facilitating collaboration and communication

Identify community priorities and best practices for in situ observations and remote sensing.  Identify gaps and identify the role of individual flux observing campaigns within the context of international priorities. 

Provide a framework for assessment and comparison of air-sea flux mapped products, models, and reanalyses/state estimates.
Planned Products and Outcomes
Contributing Modelling and Field Activities
Last modified: 09/Aug/2022/JB